Student Breakfast:
Student Lunch:
Secondary Schools $2.70
Elementary Schools $2.55
All Schools reduced lunch $.40
Adult Meals:
Adult breakfast is $2.50
Adult lunch is $4.60
Apply for Free/Reduced Lunch on your student's Harmony account. If you need help contact Vickie Coffey (vcoffey@rbbschools.net).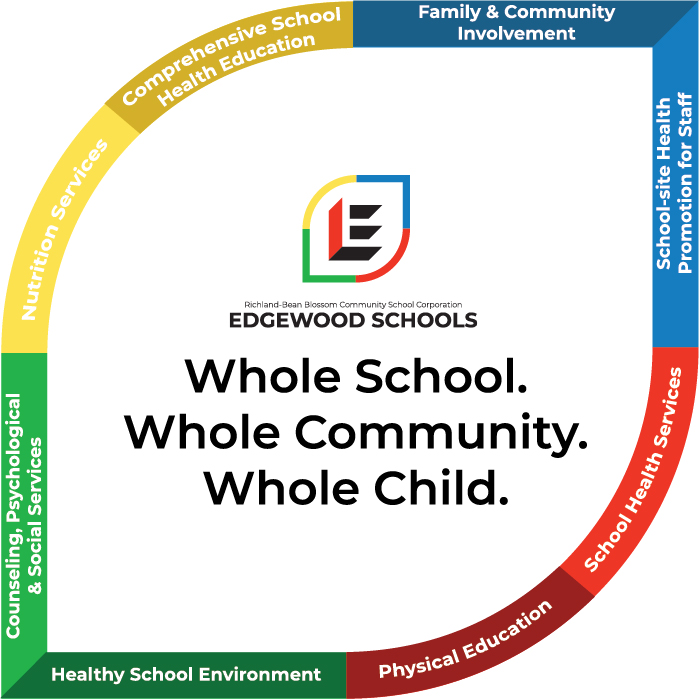 Richland-Bean Blossom's Healthy Schools and Nutrition Services believes in a Whole School, Whole Community, Whole Child approach to student's school experience. Consisting of 8 interconnected objectives, Edgewood is dedicated to making sure every opportunity is available to EVERY student and our staff members to create a community of healthy learners.
The nutrition services department serves healthy breakfasts and lunches to all Edgewood students, offering several entre options along with fresh fruits and vegetables each day.
We have a dedicated staff of over 20 foodservice professionals that are trained and are all Serve Safe certified. We collaborate with our teachers at RBB, including genius hour where students learn food safety and meal preparation with a hands on approach.
In addition, we offer catered party trays that offer a healthier option in lieu of high sugar items for the classroom. Tastings of new vegetables in the classroom.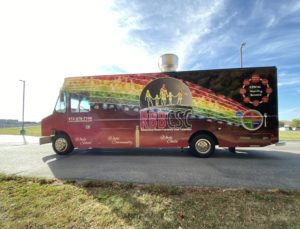 The Edgewood Food Truck provides healthy meals for students during summer break. The goal is to serve our Edgewood community to bring people together – food, fun, and familiar faces!
2. Comprehensive School Health Education
Comprehensive school health education brings together all Edgewood Schools health education from grades pre-k- 12.
Programs that contribute to health education:
Learning about composting, gardening, and garden-to-table food harvesting.
Gardens at all schools

The harvest from EJHS has been used in our kitchens to feed students.

Nutrition education led by teachers in classrooms.
"Try It" days at EIS and EPS where students are introduced to new fruits and vegetables to try.
Family and Consumer Science students work at EHS to increase breakfast participation.
Mustang Coffee Corral– allows students to learn about food safety and the process of running their own business.
3. Family and Community Involvement
Family Engagement Coordinator helps communicate healthy happenings and school-wide events to our families. They work with community partners and parents to raise funds for activities and supplies within the classroom.
Along with that, they help connect parents with community partners for EPS Fun Run, Bike Rodeo, Health Fair, Literacy Lock-in and other fun educational events.
A great way for parents to get involved is by joining the Healthy Schools Committee – contact Vickie Coffey if interested – or your schools PTO.
4. Healthy School Environment
A healthy school environment starts with a clean and safe school. Edgewood School's maintenance director and custodians help keep our kids safe by using nontoxic, green, and safe products to clean and disinfect.
A healthy school environment also includes trees and aesthetics which provide a pleasant and safe space for our students to learn.
Edgewood is a non-smoking and non-vaping campus.
Each school has touch-less water fountains and clean water is available for all students to drink or refill their water bottles. A hydrated mind is a mind ready to learn!
Physical Education is not just about running, it's about every aspect of keeping a healthy mind and body. The goal is to keep moving!
Teachers incorporate breaks during the day with physical activity to alleviate mental and physical fatigue.
Each Edgewood School has PE classes with teachers that a trained to engage and educate students.
6. School Health Services
The school district's corporation nurse works with community partners to provide dental services, vision screenings, a flu clinic for staff, food allergens training, and CPR training.
Our Tobacco Free Coalition works to educate and enforce our non-smoking and non-vaping campus.
School Health Services: https://rbbschools.net/school-health-services/
7. School-Site Health Promotion for Staff
We have provided the following services for staff:
Staff Clinics
zomba, yoga
Jazzercise
YCMA
Weight Watchers
8. Counseling, Psychological, & Social Services
We provide social, emotional, and mental health supports and resources for our students, staff, and families.
Social and Emotional Learning (SEL) is one program that helps with this. SEL is the process through which children and adults acquire and effectively apply the knowledge, attitudes, and skills necessary to understand and manage emotions, set and achieve positive goals, feel and show empathy for others, establish and maintain positive relationships, and make responsible decisions.
Learn more about SEL and all of our student services at Edgewood HERE